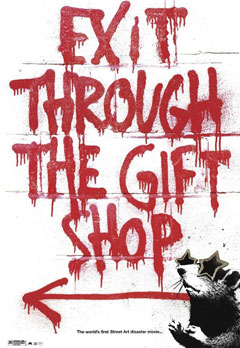 La Fabbrica del Vapore di Milano organizza una interessantissima iniziativa dedicata alla street art.
Martedì 15 novembre 2011 si inizia con il workshop "Infiltrate the masses", incentrato sulla guerrilla art: i partecipanti, dopo un'introduzione al fenomeno, realizzeranno in prima persona un progetto di guerrilla art utilizzando diverse tecniche (visuale, performativa, video-fotografica, installativa..).
Il workshop si terrà il 15 novembre dalle ore 11.00 alle ore 18.30 e il 16 novembre dalle ore 11.00 alle ore 17.00.
Mercoledì 16 novembre 2011 si terrà WE ARE ALL FAKES! Arte della sovversione o sovversione dell'arte?, evento dedicato all'uscita in Italia del film in dvd "Exit Through the Gift Shop" diretto da Banksy.
Sarà possibile vedere il film stesso in due proiezioni alla Fabbrica del Vapore, alle 20.30 (su invito) e alle 22.30 (ingresso libero fino esaurimento posti), dopo un intervento di presentazione del regista (Banksy si presenterà davvero al pubblico??!), alle 20.
Durante la stessa serata sarà anche possibile vedere all'opera lo street artist italiano Ozmo in un live painting e la presentazione dell'opera Phoebe Zeitgeist- azione di strada/video-foto.
More info:
http://www.fabbricadelvapore.org/
http://madeinart.it/it/